This shop has been compensated by Collective Bias, Inc. and its advertiser. All opinions are mine alone. #SkinEssentials #CollectiveBias
I can't believe that I start grad school in just two short weeks. It seems like just yesterday that I started my freshman year of college in a new state, rushed my sorority, and got involved in as many things as I could.
One of my favorite things about going back to my University is college football. There's a feeling of being in the stands with fellow students that I really can't explain. It's a huge comraderie that I never felt in high school and made me fall more and more with my university every game day. Even if you're not a sports person – go to the games. I promise it's fun, even if you have no idea what's going on.
One of my least favorite things, however, is the dreadful feeling of an 8 AM course. I know very few people who were able to avoid the dreaded 8 AM. Pretty much, as a college freshman, you somehow get stuck with an 8 AM as you pick the leftover classes that the juniors and seniors didn't want. I'm a morning person, but if you're not, I'll give ya my best morning tips to get your day started by 8 AM.
Create a routine you enjoy.
If you enjoy your morning routine, you're way more likely to actually wake up for it. If that means working out in the morning, then work out. If you want to shower in the morning, include that. Other enjoyable things to add to a morning routine include making yourself a good breakfast or enjoying a cup of coffee while taking a few minutes to peruse Twitter or Instagram.
I set out clothes the night before, wake up two hours early, work out, shower, eat and have a cup of coffee, and go about my day. This routine works for me. Find something you enjoy waking up to and start making it a habit.
Make sure you wake up early enough (and stop hitting snooze)!
It is not fun to be rushed in the morning. If you need an extra 15 minutes to wake up and lay in bed looking at the "news" aka your phone, schedule that in and wake up 15 minutes earlier. And, if you really want to become a morning person – stop hitting snooze! It messes up your REM cycle and can actually make you more tired!
If you wake up too late, you're going to be rushed and possibly not make it through the routine you're trying to create. If you continually break your routine, it will never get easier. It take 21 days to make a habit, so power through until it's second nature and your body gets used to your new sleep cycle.
Invest in affordable luxuries that make your morning enjoyable.
Again, back to the making your routine enjoyable thing. When I take a shower in the morning, I splurge on the good-smelling stuff to make it feel more like a spa shower than the just-get-it-done shower. I love the grapefruit smell in the Neutrogena® Body Clear® Body Wash – Pink Grapefruit – it just smells so fresh and helps me wake up. It also helps treat and prevent body acne using the maximum strength acne medicine, Salicylic Acid, boosted by oil-blasting MicroClear® Technology. It's specially developed to treat body breakouts such as those on your back (which I totally get if I workout and sweat a lot!) as well as break outs on your shoulders and chest without over-drying. It's so nice for me since I already have sensitive and dry skin. Plus, you can't beat the added natural grapefruit extract and vitamin C.
After I'm out of the shower, I use Clean & Clear® MORNING BURST® Facial Cleanser, a unique gel cleanser with Vitamin C and Ginseng that helps you wake up! I used a similar cleanser for a long time with Ginseng, but made the switch to Clean & Clear® for the price tag and convenience. It's perfect in a college student budget and it's sold at Target, so you can pick it up with the rest of your basics! It has a nice citrus scent, similar to the Neutrogena® body wash, which definitely helps wake me up too. It also has BURSTING BEADS® that burst with energy and vitamins, leaving your skin feeling clean, energized and ready to face the day.
So, find something that you enjoy, maybe a face mask or body scrub or a body wash and facial cleanser, and find a way to incorporate it into your routine to help wake you up.
To shop my morning products, you can click on the image below!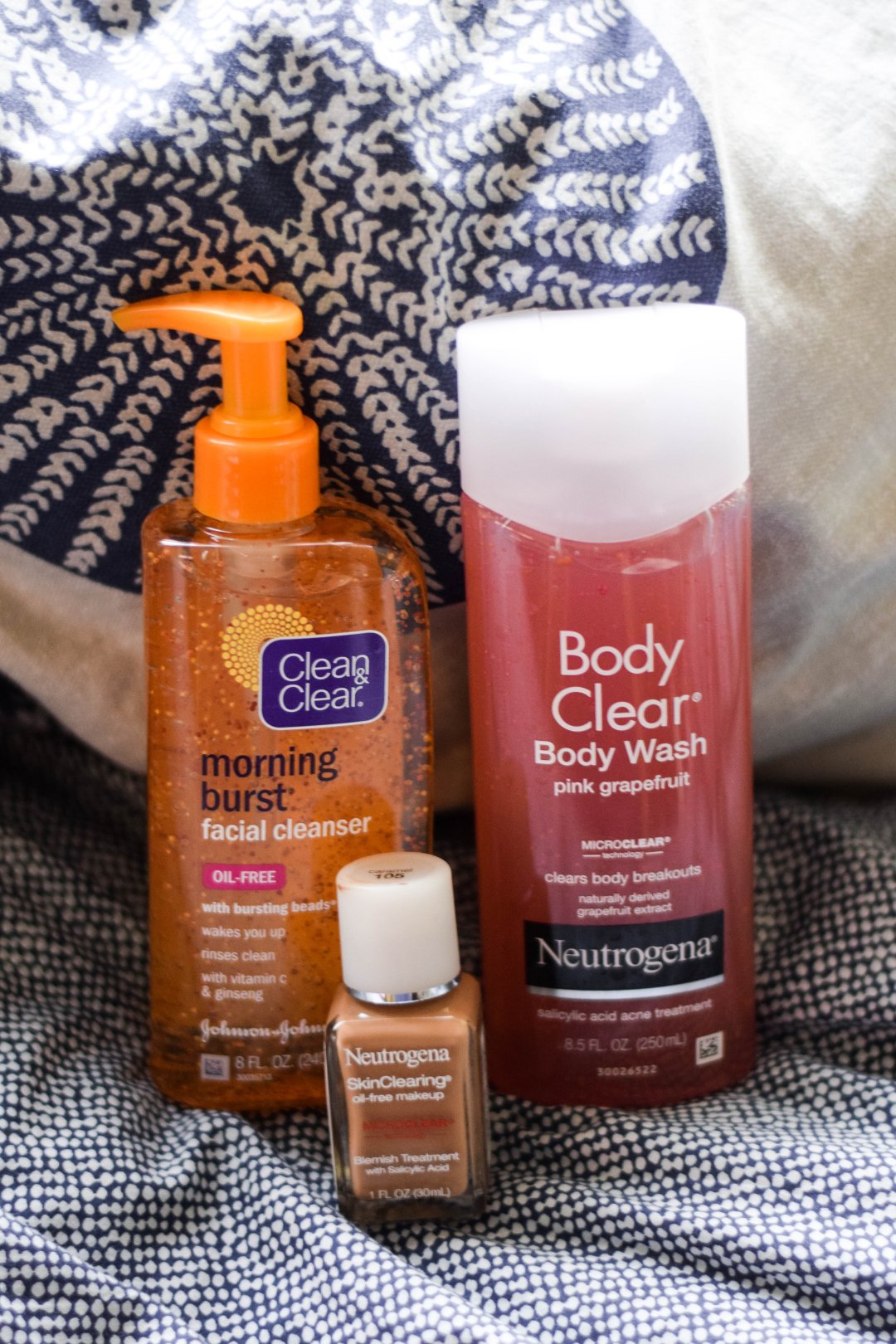 Develop a go-to skincare routine for rushed mornings.
I talked briefly about the products I use, but they're a part of a skincare routine that I use every single morning. Having a go-to routine helps speed things up in the morning so I don't have to think much about what I'm doing – it almost happens on autopilot.
If I have a big day ahead of me, like a day with an interview or event, I have a basic makeup routine too. I only break it out every once in a while and keep my skin clear for the most part. Since I have sensitive, acne-prone skin, I use Neutrogena® SkinClearing Liquid Makeup. The coverage is perfect for me (I use the caramel shade) – it's not too heavy or too light. It's formulated with MicroClear® Technology, scientifically shown to dissolve oil and help boost delivery of salicylic acid to the source of breakouts, so it clear acne too! It not only treats blemishes, it helps prevent emerging breakouts, control shine and provides natural coverage with a breathable feel – perfect in the Arizona heat!
So, figure out what you want in your morning routine so it becomes habit. Maybe you use different products than at night! Either way, make it a habit!
For those of you heading back to college, I've got some deals for y'all. Cartwheel is Target's app that has great offers during August on favorite Neutrogena® Cosmetics. One great deal that I will definitely be taking advantage of is 20% off Neutrogena® cosmetics every weekend in August, Thursday-Sunday, but it's only on the Cartwheel app! They also have a Buy 3 Neutrogena® facial skincare product, get a $5 gift card deal too! For Clean & Clear®, they have buy one Clean & Clear® product, get one 25% off! Stock up in August while doing your back-to-college shopping and you'll be set for the semester!
You can see where to find my favorite products in your local Target below!
This post is sponsored by CLEAN & CLEAR® and NEUTROGENA®. I only recommend products I use personally and believe my followers will also enjoy! Some of the products mentioned were provided by CLEAN & CLEAR® and NEUTROGENA® for this review.