This shop has been compensated by Collective Bias, Inc. and its advertiser. All opinions are mine alone. #CreateWithHP #CollectiveBias
I seriously can't believe that I start grad school in less than two weeks. It's absolutely crazy. Four years ago, I was preparing to rush my sorority and trying to figure out where my classes were on my first day of college. It was a short 4 years. Since people seem to be liking my college-centric posts, I figured I would keep up the momentum. So, if you're preparing to go back to college this fall, I've put together my tips on how to have a successful fall semester.
Dress for success.
You that whole dress well, test well mentality? Well, I live by it. I will 99% guarantee that if you wake up and actually get ready for your day, you will perform better. You'll be alert and more prepared to handle your day. I have a go-to morning routine that helps me wake up and take on the day with a much better attitude. If you just roll out of bed and go to class in your pajamas, you'll never fully wake up and embrace the day.
I highly recommend creating a morning routine to make things easier. If you're not a morning person and need help with that, check out one of my previous posts on making your own morning routine.
Set up a distractions-free workplace.
Definitely don't make your sleeping place your working place. As in, try not to work from your bed. I'm totally guilty of this and it's really easy to do. However, if you start working in your sleeping place, it's both easier to get distracted from the task at hand and harder to relax later when you're trying to sleep.
Instead, create a place dedicated to school work. When you're setting up the deskspace, make sure you have a few things:
Enough empty space to take notes or have an open textbook
Easy access to a plug in case you need a recharge
A desklamp to focus on the task at hand once the sun goes down
Definitely don't try to cram too much on your desk! I used to do this and never had the space to actually sit down and work. Under my desk, I have a little extra space where I store a few textbooks and a small printer.
When I was a freshman, I didn't have a printer and, for the most part, that was ok. As I got into the higher level classes, I really wished I had my own printer. I finally made the investment for grad school and I'm so glad I did! I got the HP DeskJet 3722 All-in-One printer from Walmart. It's the world's smallest all-in-one printer, affordable for a college student budges, and designed to fit—and look good—virtually anywhere. I purchased it in Dragonfly Blue (and it also comes in Sporty Purple and Poppy Pink) to match the additional blue colors I already have in my room! Walmart is also having in-store demos so you can see if the printer is right for you – locations and timing are listed HERE if you want to find one near you! I personally love that I can wirelessly print, scan, and copy what I need and even connect my smartphone and print without a network!
You can shop my exact printer by clicking on the image below!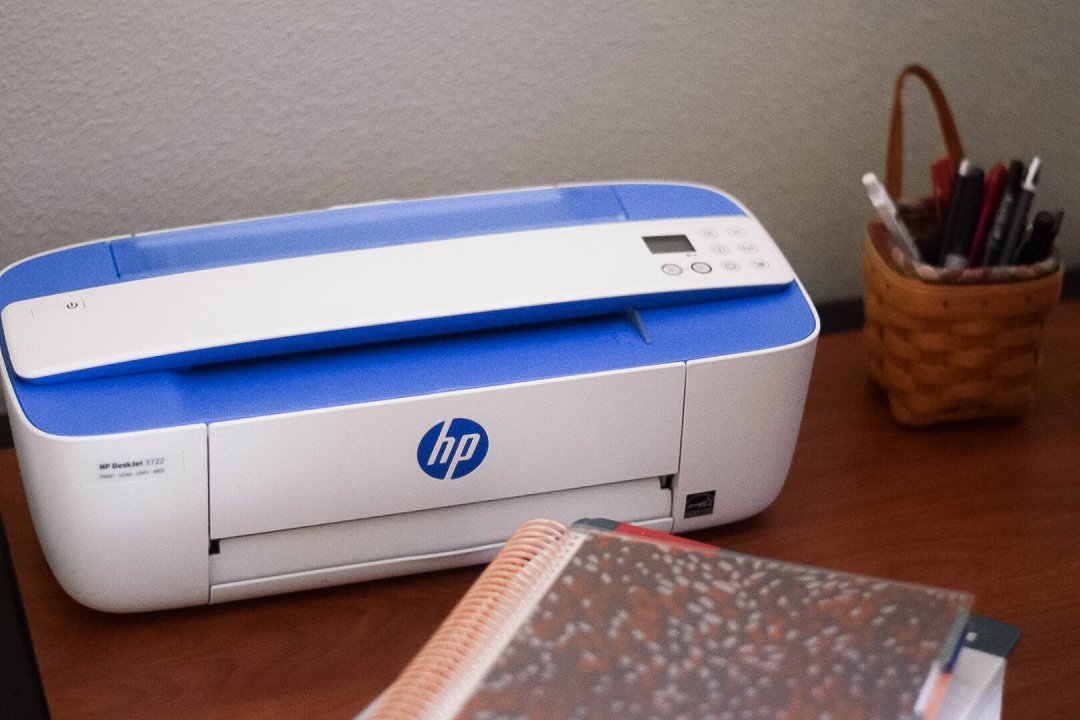 You can also find these printers on the printer aisle of your local Walmart! It's usually located by other technology, so close to the television, music players, and CD and DVD section!
Snack on fruits and veggies.
Make sure you're getting your brain the proper nutrition to function! It's easy in college to fall back on the dining hall or pizza delivery or ramen… but that makes it even more important to make sure you're not skipping out on the fruits and vegetables! (No, vegetables on your pizza don't count.
I recommend stocking up on things that don't have to go in the fridge like apples and oranges. Apples and a cheesestick are my favorite daytime snacks!
Get enough sleep.
Now, I know you don't want to miss out on anything, but don't sacrifice your health in order to be the do-it-all kinda person in college.
For more tips on how to do it all in college without going overboard, you can check out my post here.
Write everything down.
I try to write down everything… twice. Not only is it great when taking notes (those professors make questions based on really specific things they say sometimes) but it helps you remember things later!
I also make sure to write down all important deadlines as soon as I get the course syllabus. Write down event and meeting dates as soon as you know them to prevent double booking yourself as much as possible. Don't forget to schedule in time to relax!
Things to write down:
Important due dates and deadlines
Professor's office hours
Club meeting times
Sorority or club events
Local events to attend
Don't take your professors (or the teaching assistants) for granted.
Office hours are a beautiful thing folks. Not only will professors appreciate the extra effort (and potentially bump up your grade if you're on the border), but you can actually make real connections with professors who will mentor you and even write recommendations for you later in college! Those connections are truly invaluable.
Make friends in your classes.
Nothing is worse than getting the "what did you get for answer 5?" text when you didn't even know you had homework… except not getting the text and forgetting to do the homeowork altogether. Make friends in your classes that you can buddy up and work on assignments with (if it's allowed) and study for tests with. Sometimes, it just helps to have those people that you can ask when you get stuck. Everyone has different strengths and weaknesses in their classes so contribute your strengths to a study group and let them help your weaknesses!
Now, I'm sure you want to be the strongest person in that study group, which is why you're reading this post. In order to be that person, you're gonna have to get organized and stay on top of your deadlines. If you want to get organized, I created a simple calendar printable that has space for you to write your assignments, test, events, and goals down! Just click the link below to download!
Download a free calendar printable here!
Happy back to college season!